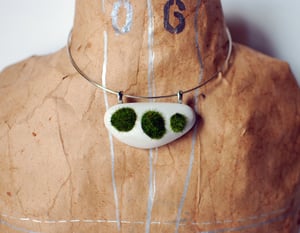 $

26.00
Modern. Simple. Urban. Elegant.
ERO is sculpted and cast in concrete individually by hand, this concrete pebble necklace has it own unique texture and feel inherent to the material. Faux grass is nestled comfortably within the organic caverns. No need to water!
The velvety look of concrete looks great against all skin tones and definitely stands out as a unique piece! The concrete is finished with a satiny layer of vegan wax to give it a smooth textural glow and protect it from the elements.
The necklace comes on an 18" silver toned chain with a lovely matte finish, or a silver memory wire choker.d
Concrete pendant is 2.5"x1.5"
The "Concrete Zen" series has been in development for over 2 years, debuting on January 1st, 2011.
Pair with a grassy ring for a truly outstanding duo.