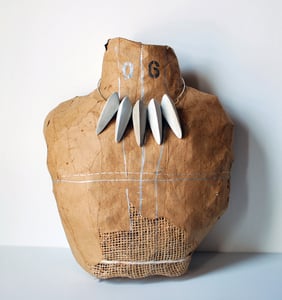 $

34.00
This Modern Urban Tribe necklace is the first to be hand-sculpted, molded, and cast in concrete. Totally unique and show-stopping! Surprisingly light!
The concrete used in this sculptural piece is of an extremely high grade. After curing and carefully sanding, it takes on a cool, silky texture similar to porcelain.
Cast individually and by hand using a simple form, these 5 (five) concrete gems hang from a stainless steel hoop choker with a simple hook clasp. Message me if you would like to add more pieces to the necklace, or subtract.
The "Concrete Zen" series has been in development for over 2 years, debuting on January 1st, 2011.